How to add a dash of style and colour to your home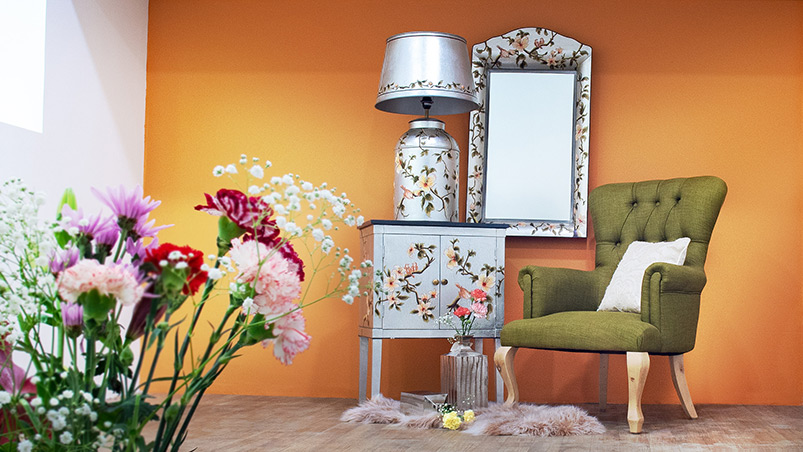 There are infinite ways to add character and colour to your home, either by introducing new styles or simply adding a new colour palette. Opt for a small change with a big difference, rather than trying too hard. I'm a huge fan of statement armchairs as I find that they give a room that extra personal style and comfort too. Sometimes it can be just what you need to finish a room.
Looking for the perfect statement chair? Here are some tips on how to incorporate them in your space…
The feeling of comfort when entering a room is what makes a space a Home. Nowadays an open plan space is the most popular; therefore aim for a living area layout which will work both practically and visually.Contrast is the key to making a bold statement. Before choosing the perfect armchair consider the size, shape or colour and how it's going to blend or pop with your space. I personally love to mix styles when it comes to seating! Try mixing vintage forms and materials with straight modern lines.
Take a look at the different styles and sizes of these armchairs together with a variety of colours to choose from.
I have a crush on these pieces softly painted in ornate florals blooming against a shiny gold or silver leaf finish. If you're looking to introduce the metallic trend this season, pair the small 2 door cabinet together with the matching mirror or just add some mood lighting with the statement lamp. I'm sure they will be the highlight of your interior!
Choosing the right colour scheme for your home always needs a lot of thought – it's hard to know you won't grow tired of it. Don't be afraid to mix colours and be bold especially if you have played it fair with the size of the armchair. A rust colour in a velvety texture could be just enough to give the room a rich look and it looks classy for both winter and summer seasons. Always make sure that you choose a colour you love and which reflects your personality.
"Don't be afraid to express your own style. Be adventurous with colour and pattern""

CHRISTINE FOUND SOFA & SOUL
Pink is making a huge statement this season in interiors. Being it a soft feminine colour, it can be incorporated in various rooms. If combined with a greyish colour scheme, one can add metallic accessories for an elegant touch
A neutral colour scheme is the safest and yet the one which can easily be tweaked and revamped. Any colour can be added to neutral hues, blues – greens – oranges and yellows. If you like a warm, cosy feeling when entering a room choose a mustard armchair and compliment with dark wooden furniture or flooring.
This season zesty lime is used in interiors for its fresh and vibrant look. The trend is about mixing bright colours together. It can sound edgy…but the rule is to have 2 main colours against neutrals to make a statement. What do you think of this summery setting?